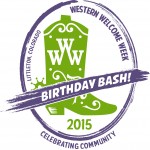 Friday, August 7 – Sunday, August 16, 2015
Western Welcome Week is an annual festival celebrating community in the greater Littleton, Colorado area. WWW started in the late 1920s, and has been held every year since. Today the festival has over 40 events benefiting dozens of local civic and charitable organizations.
The 87th annual celebration will begin on Friday, August 7, and will continue for 9 more days, through Sunday, August 16. Festival Day, which includes the Littleton Firefighter's Children's Parade, the 87th Grand Parade, the 56th annual Arts & Crafts Fair, free entertainment, and concessions, will be Saturday, August 15.
Western Welcome Week, Inc. is a 501(c)(3) public charity, ded­i­cated to car­rying on the tra­di­tion of greater Littleton — yes­terday, today and tomorrow — with the annual celebration.