City of Aurora, Colorado
When most people think of Colorado, the Rocky Mountains are probably one of the first things that come to mind. Subsequently, they might imagine skiing, sunshine and snow. Water, however, is not commonly associated with the Centennial State or the Mile-High City. Much of Colorado, and its capital lie in an arid region, and these areas sometimes suffer from water shortages.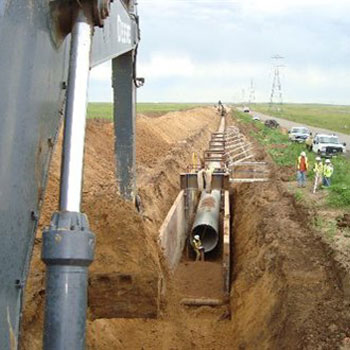 To help deal with this problem, in the summer of 2006, Aurora, Colorado, a suburb of Denver, began developing the Prairie Waters Project, the largest pipeline project in Colorado, which will allow the city to collect water from the South Platte River. A major component of the project is the construction of a 34-mile pipeline, through which up to 3.3 billion gallons of water per year will be pumped to a purification plant. The project wrapped up in late 2010.
Mountain Man Welding and Fabrication Inc. has been involved with the Prairie Waters Project since the beginning of 2007. MMWF has played an integral role in helping keep the construction on schedule. "We work for multiple contractors on various phases of [the Prairie Waters Project]," says Coni White, Office Manager at MMWF. "It's a humongous [undertaking] as well as at times a juggling act, but we have the right people for the job."*
*Portions of the above article were taken from the article, "Oil and Water" recently published on FFJournal.net